It's the most wonderful time of the year, in our opinion—yes, we're talking about beach season! Whether you're planning a weeklong getaway to a secluded resort or you're simply taking a day trip with your BFFs, one thing's for certain: Maintaining your skincare routine while you're relaxing on the sand and listening to the waves crash behind you is definitely a must.
To help you make the most of your beachside beauty routine, below I will introduce you to your beach days skin care essentials like sunscreen, moisturizer, and facial cleanser as well as tips and tricks to protect your skin from the sun and sand.
Beach skincare tip #1: Apply Broad-spectrum sunscreen before getting there
OK, so this is probably a no-brainer to you by now, but hear me out. Using a broad-spectrum sunscreen before heading to the beach and taking other sun protection measures should be your top skincare priority. That's because spending time in the sun increases your risk of skin cancer and early skin aging. So, to decrease this risk, regularly use a sunscreen formulated with a broad-spectrum SPF50+++ value of 15 or higher or take other sun protection measures, too. These include limiting your time in the sun (especially during the sun's peak hours from 10 a.m. to 2 p.m.) and wearing long-sleeved shirts, pants, hats, and sunglasses.
Beach skincare tip #2: Reapply, reapply, reapply
It's not enough to slather on the sunscreen before going to the beach. Reapplication is super important, too. I once read from The Skin Cancer Foundation that states y'all should reapply sunscreen every two hours. Soaking under the sun or taking a dip in the ocean? Use a water-resistant sunscreen and reapply sunscreen at least every two hours, plus anytime you get out of the water and towel off. Be sure to stock your beach bag with a tube or two so that it's easily accessible throughout the day.
Beach skincare tip #3: Pay attention to your lips
One area that a lot of people tend to overlook when it comes to sun protection is the lips. So, show your pout some love by applying a lip balm formulated with broad-spectrum sunscreen.
Beach skincare top #4: Go makeup-free for the day
Since you're going to be re-applying sunscreen every couple of hours while you're out at the beach, skip the makeup. You don't want anything getting in the way of your relaxation and having to worry about touching up your makeup every time you reapply sunscreen would certainly do that. If you want to wear a little makeup, I would recommend L'Oréal Paris Infallible Pro-Matte Lock Makeup Primer which blurs imperfections and keeps oil at bay. Perfect for the summer heat!
Beach skincare tip #5: Park Yourself Under An Umbrella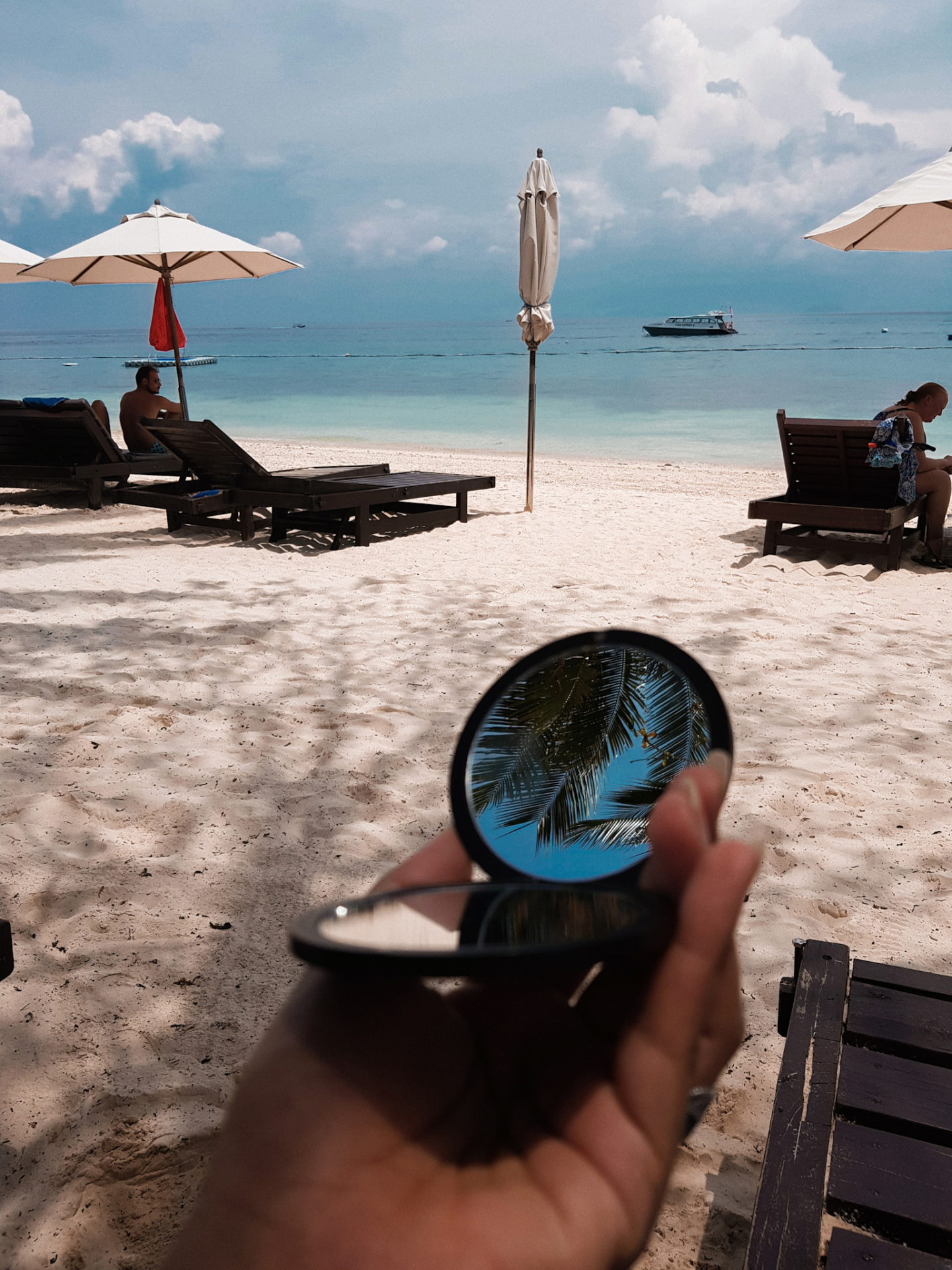 Ah, we know that soaking by the sunshine feels good at the moment especially after being cooped up under heavy sweaters all winter long. However, sunscreen alone will not offer you sufficient protection from the sun. It's important to take other sun protection measures such as seeking shade during the sun's peak hours from 10 a.m. to 4 p.m. Let's be real though, if you're not a morning person, the chances of you getting to the beach much earlier than that are probably pretty slim, right? So, stick an umbrella into the sand and park yourself under it for some time in the shade.
Beach skin care tip #6: Break Out Your Summer Accessories
Other ways you can help protect yourself from UV rays are by wearing UV-blocking sunglasses and a broad-brimmed hat. Consider this your excuse to buy some new accessories! Looking cute while staying sun-safe? Yes, please!
Beach skin care tip #7: Wear A Rash Guard While You Swim
If you're a surfer girl or you just like getting your feet wet—consider wearing a rash guard while you're in the water. I would recommend you to cover up with clothing while you're out in the sun, and you can buy a rash guard with long sleeves to protect more of your skin when you're taking a dip.
Beach skin care tip #8: Be Prepared For A Sunburn
Even the most diligent of sunscreen users can have a mishap—we've all been there. If you're at the beach and notice you're starting to get a sunburn, there are a few measures you can take!
Step 1: Head indoors, ASAP! You don't want to expose your skin to any more sun right now.
Step 2: Cool things down. It could help to take cold baths or showers. One thing you want to avoid is staying in the shower for too long, as this can be drying. You should also steer clear of harsh soaps, which could irritate your skin further. Applying cold compresses might also help relieve some of the pain.
Step 3: Use moisturizer. Once you're out of the shower, gently pat your skin dry (no harsh rubbing—ouch!) and apply a moisturizer to damp skin.
Step 4: Say hello to aloe vera. When applied to the skin, aloe vera can help provide soothing relief if you have a sunburn.
Step 5: Put on loose clothes. Wear loose, soft, breathable clothing to help avoid uncomfortable rubbing between your clothes and sunburned skin.
So now that you guys have my beach essentials, share with me whats your favourite while you are out on a holiday?