Please note that all opinions and experiences shared regarding the Gojours product are entirely my own.
What started out as a social media collaboration turned out to the best supplement I've taken in a long time! Interestingly, I can't help but reflect on how a simple choice – the decision to integrate Gojours Mixed Botanical Drink into my daily routine – has transformed not only my well-being but also my perspective on holistic health.
For over a year now, Gojours Mixed Botanical Drink has been my trusted companion, helping me navigate the ups and downs of daily life while addressing some long-standing skin concerns (dull skin girl here). Join me as I take you through this journey of self-improvement, where each sachet of Gojours has been a step toward a healthier, happier me.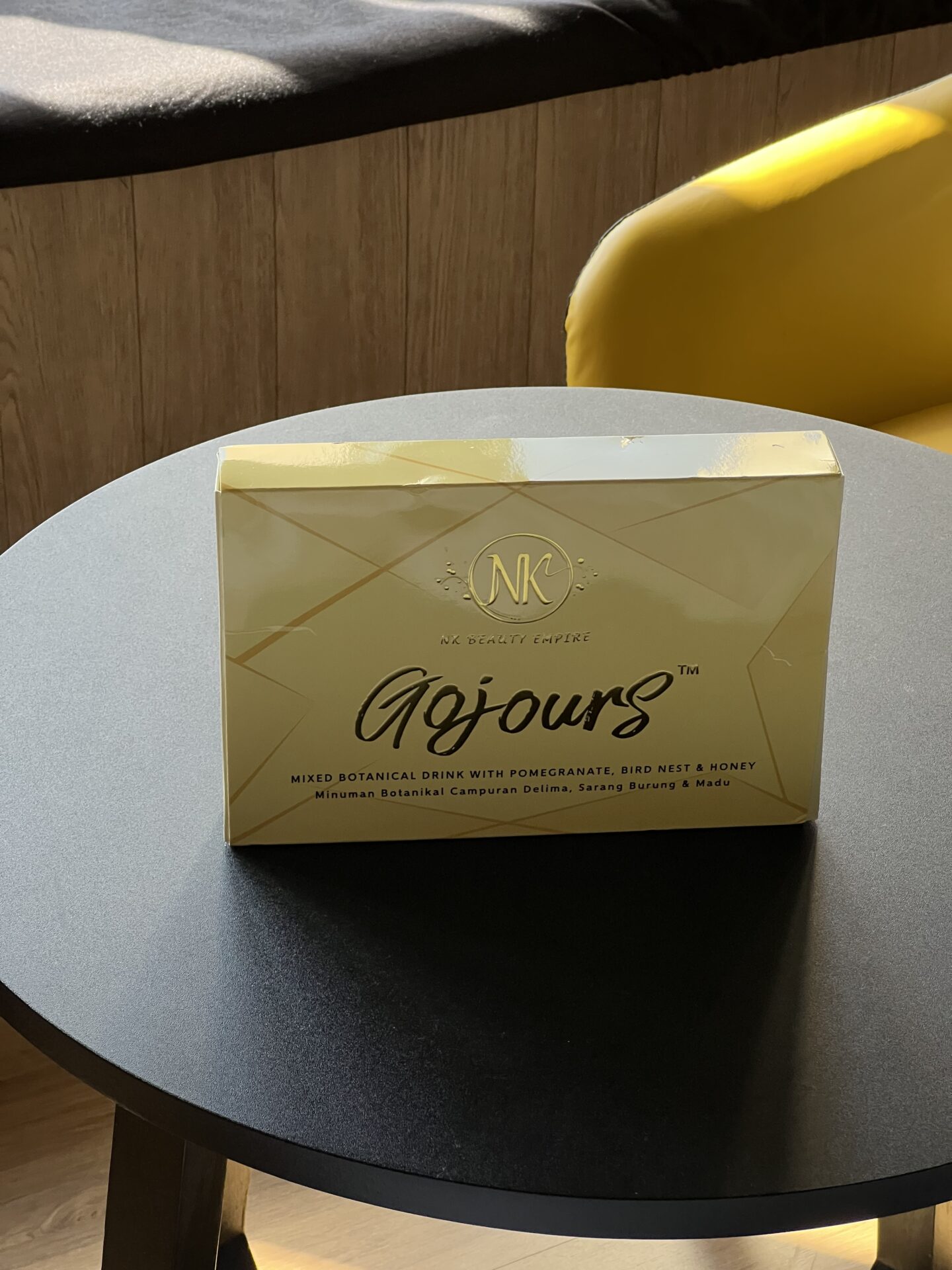 What is Gojours Mixed Botanical Drink?
Gojours Mixed Botanical Drink is a superfood supplement packaged in convenient sachets, enriched with nature's finest ingredients (pomegranate, bird nest & honey) that offers a wealth of skincare and overall well-being benefits. This supplement is thoughtfully crafted to fit seamlessly into your daily routine.
It is proven to keep your skin looking youthful and hydrated, keeping your hair strong and shiny and improving your borderline skin needs. I am a testament to it!
A Perfect Blend of Nutrients in Every Sachet
As a content creator, maintaining a healthy and balanced lifestyle is not just a personal choice but a professional necessity. My work demands creativity, focus, and consistency, and all of these factors are deeply intertwined with my physical well-being.
Gojours Mixed Botanical Drink serves as a supplement and a valuable addition to my daily routine. Whether it's boosting my immune system during busy seasons or addressing the effects of stress on my skin and hair, this drink provides a personalized approach to wellness.
This, in turn, positively influences my confidence and self-image, allowing me to present my best self both on and off-camera.
Each sachet of Gojours is a powerhouse of natural goodness, featuring a blend of carefully selected ingredients such as:
Pomegranate: Known for its antioxidant properties, pomegranate helps combat free radicals and protect against premature skin ageing.
Birds Nest: Renowned in traditional Chinese medicine, the bird's nest is believed to enhance skin complexion, boost the immune system, and promote longevity.
Honey: Nature's sweetener, honey, not only adds a delightful taste but also offers various health benefits, including the unique ability to promote skin cell regeneration and healing, while also softening, brightening, and clarifying the skin.
Camu-Camu: This Amazonian fruit is packed with vitamin C, which is essential for immune support, and skin health. The vitamin C in camu camu helps promote the production of collagen, a protein responsible for making your skin appear plump, firm, and elastic.
Marine Collagen: Several studies have indicated that collagen peptides moisturize skin, improve elasticity, and reduce wrinkles and roughness in the skin. Additionally, marine collagen helps skin cells adhere to each other, strengthening plasticity and breaking down into amino acids necessary for wound healing.
Stevia: A natural sweetener with no added sugars, stevia ensures a guilt-free, low-calorie indulgence.
The Benefits of Gojours Sachet Mixed Botanical Drink Supplement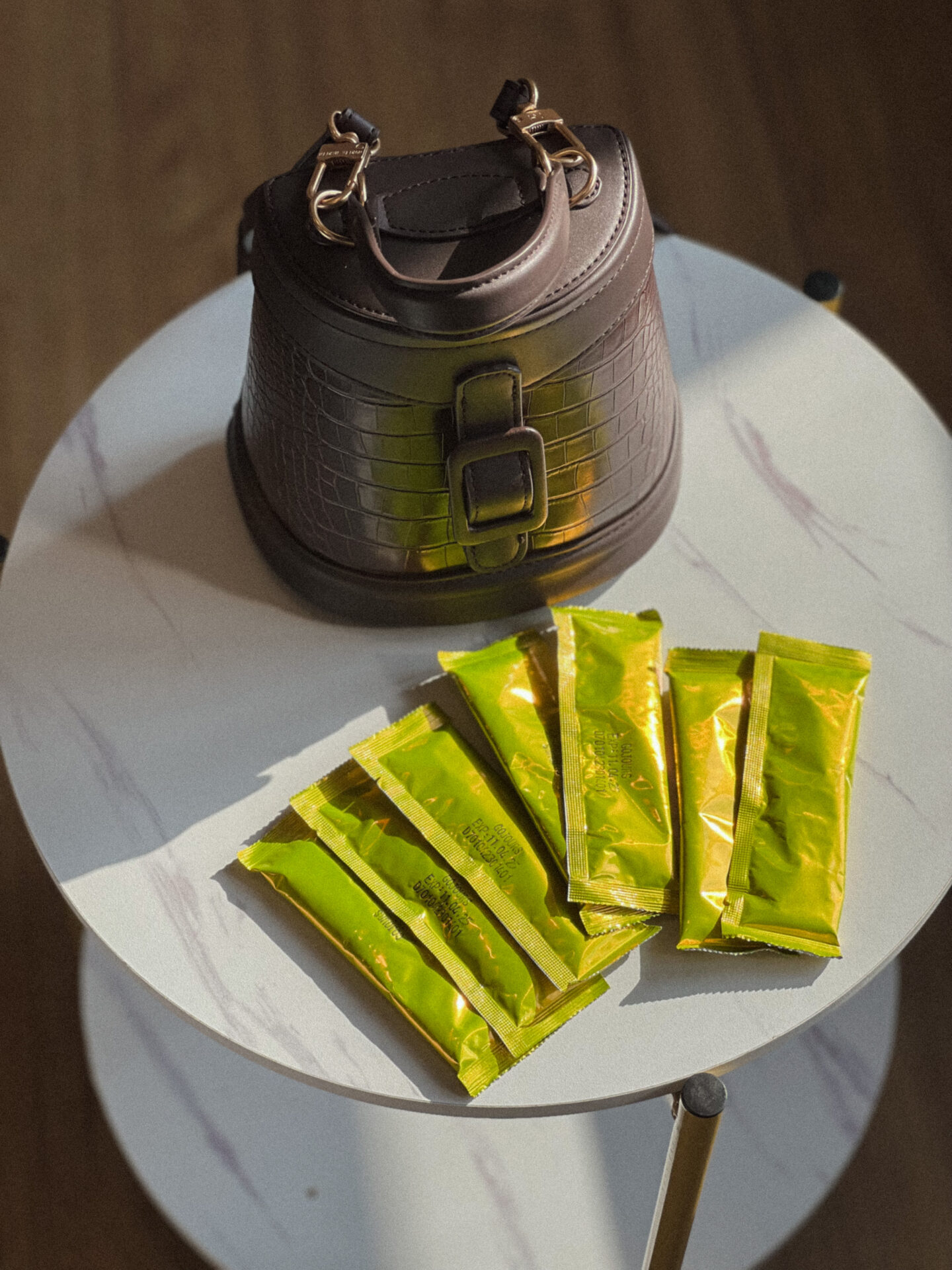 My Holistic Approach to Skin Wellness
Beauty isn't skin deep, it starts from within. That's the mantra I've embraced on my path to healthier, more radiant skin. It's about recognizing that what we eat, how we feel, and our daily routines all have an impact on our skin's health and appearance.
Here are some changes I've seen after being consistent with this botanical drink:
Hydration and Radiance: The blend of ingredients in Gojours promotes skin hydration, leaving my skin with a radiant and healthy complexion.
Anti-Aging Properties: With potent antioxidants, Gojours helps combat free radicals and delay the signs of aging, allowing me to maintain youthful, glowing skin.
Balanced Complexion: Irregular skin tone, redness, and blotchiness are addressed as Gojours supports a more balanced complexion.
Acne and Breakout Reduction: Gojours has been known to balance the skin's response to hormonal fluctuations, resulting in fewer acne breakouts during my menstrual cycle.
Rip, Sip and Enjoy – No Mess, No Fuss
Portability: These sachets are so compact and easy to carry. Whether at home, at work, or on the go, you can enjoy your daily dose of nutrition effortlessly.
Precise Dosage: Each sachet contains a perfectly measured portion, ensuring you get the right amount of nutrients every time. No need to worry about overconsumption.
Freshness: Sachets preserve the freshness of the ingredients, guaranteeing that you enjoy the full benefits of the superfood blend every time you rip and sip.
No Mess, No Fuss: Forget about the hassle of measuring powders or cleaning up. With Gojours sachets, you can simply rip, sip, and enjoy – no mess, no fuss.
Monthly Promo – A Value in Every Box
Gojours Mixed Botanical Drink comes in boxes containing 15 sachets, making it incredibly convenient for a month's supply. But here's the icing on the cake: Gojours regularly offers promo sales on their website and social media platform which is a fantastic way to stock up and save.
I've personally found that purchasing two boxes at a time is a smart move. Not only does this ensure that I never run out of my botanical drink, but I also take advantage of the monthly promos, allowing me to enjoy these benefits at an even more affordable price.
When is the best time to take Gojours Mixed Botanical Drink for best results?
While there are plenty of suggestions floating around, really, the best time of day to take your supplement is whenever works best for you. Suppose you like to take it in the morning, great. If you prefer it as a snack during the day, great, or if you want to take it before bed, that's also great. Either way, you're boosting your collagen to help your skin, hair and health.
Stick to a routine, and religiously take your Gojours mixed botanical drink.
** avoid coffee or tea at least 30 minutes before you consume Gojours MBD for best results.
The Secret to My Daily Wellness: Gojours Mixed Botanical Drink
Incorporating Gojours™️ into your daily routine is like giving your skin and hair a daily dose of love and care. Its natural ingredients, carefully selected to offer these incredible benefits, make it a must-have for anyone looking to elevate their beauty and wellness game. So, why wait?
If you're looking for a simple yet effective way to boost your well-being and vitality, I highly recommend giving Gojours a try. Rip, sip, and enjoy the goodness – your body will thank you for it.
Remember, investing in your health is always worth it, and with Gojours, it's also budget-friendly. So, make Gojours Mixed Botanical Drink a part of your daily routine today!