The CURRENTBODY LED Face Mask is a ground-breaking product in the realm of skincare, representing the latest advancements in LED light therapy. This article, tailored for your skincare, will delve into the intricacies of this innovative device and the science of LED light therapy, highlighting its transformative effects on the skin.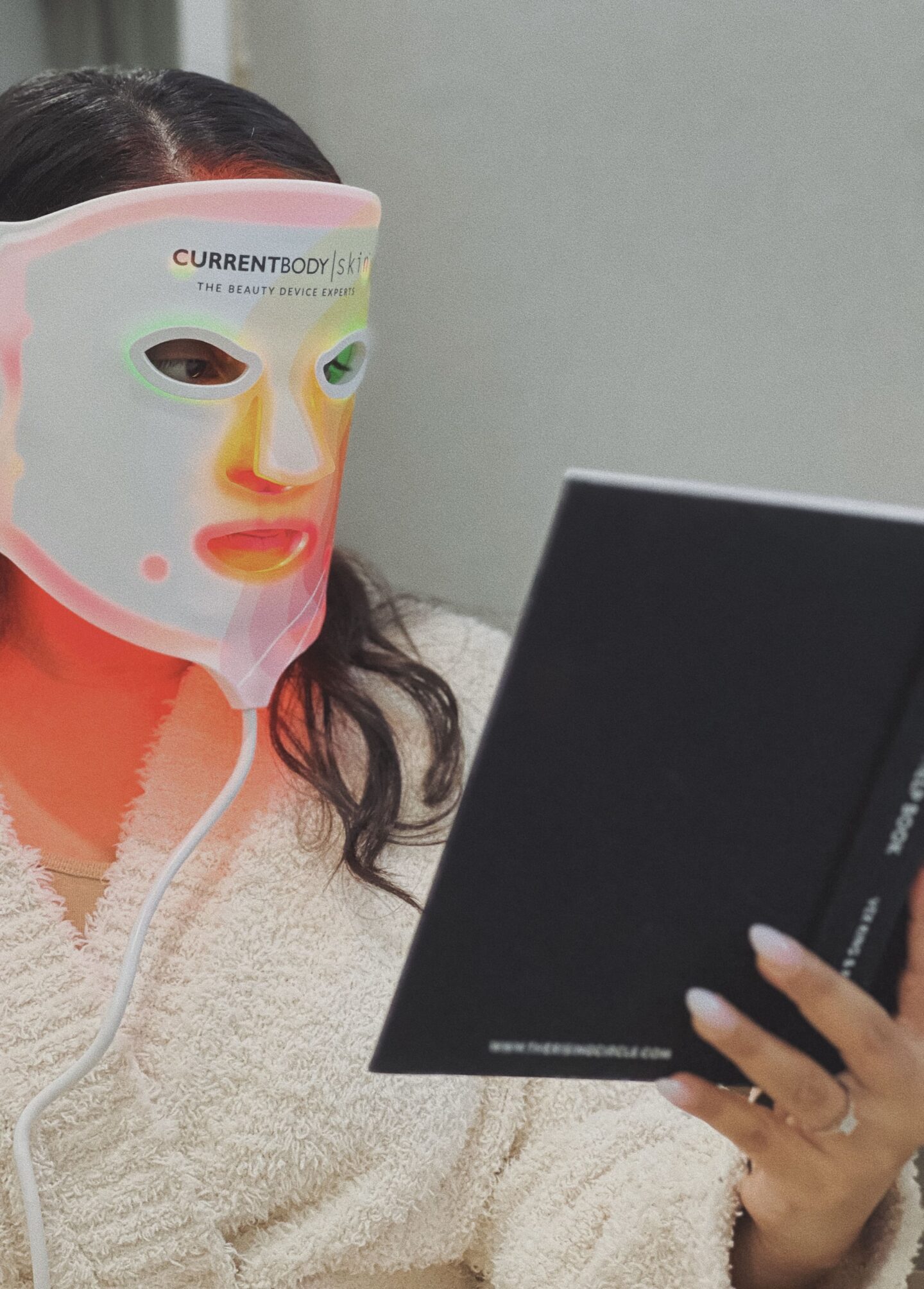 ---
1. What is LED Light Therapy?
LED light therapy, a non-invasive skincare treatment, harnesses light-emitting diodes (LEDs) to penetrate skin layers, improving skin condition and appearance. Initially explored by NASA to aid wound healing in astronauts, this therapy has evolved into a popular tool in dermatology and skin aesthetics.
2. The Science behind LED Light Therapy
The science behind LED light therapy is simple. It is also known as low-level light therapy (LLLT), which involves the interaction of light with cells and tissues.
This therapy employs various wavelengths corresponding to different visible colours, each penetrating the skin at different depths. For instance, blue light targets the uppermost layer and combats acne-causing bacteria, while red light goes deeper, reducing inflammation and boosting collagen production.
3. An Overview of the CurrentBody Skin 4-in-1 LED Face Mask
CURRENTBODY Skin classic LED mask is a light therapy that refers to the penetration of red and near-infrared light wavelengths for up to 4cm in the skin, triggering collagen production. The CURRENTBODY Skin classic LED Mask is unique in that it uses a combination of near-infrared and red light to stimulate our skin's underlying cells while also delivering treatment through the epidermis.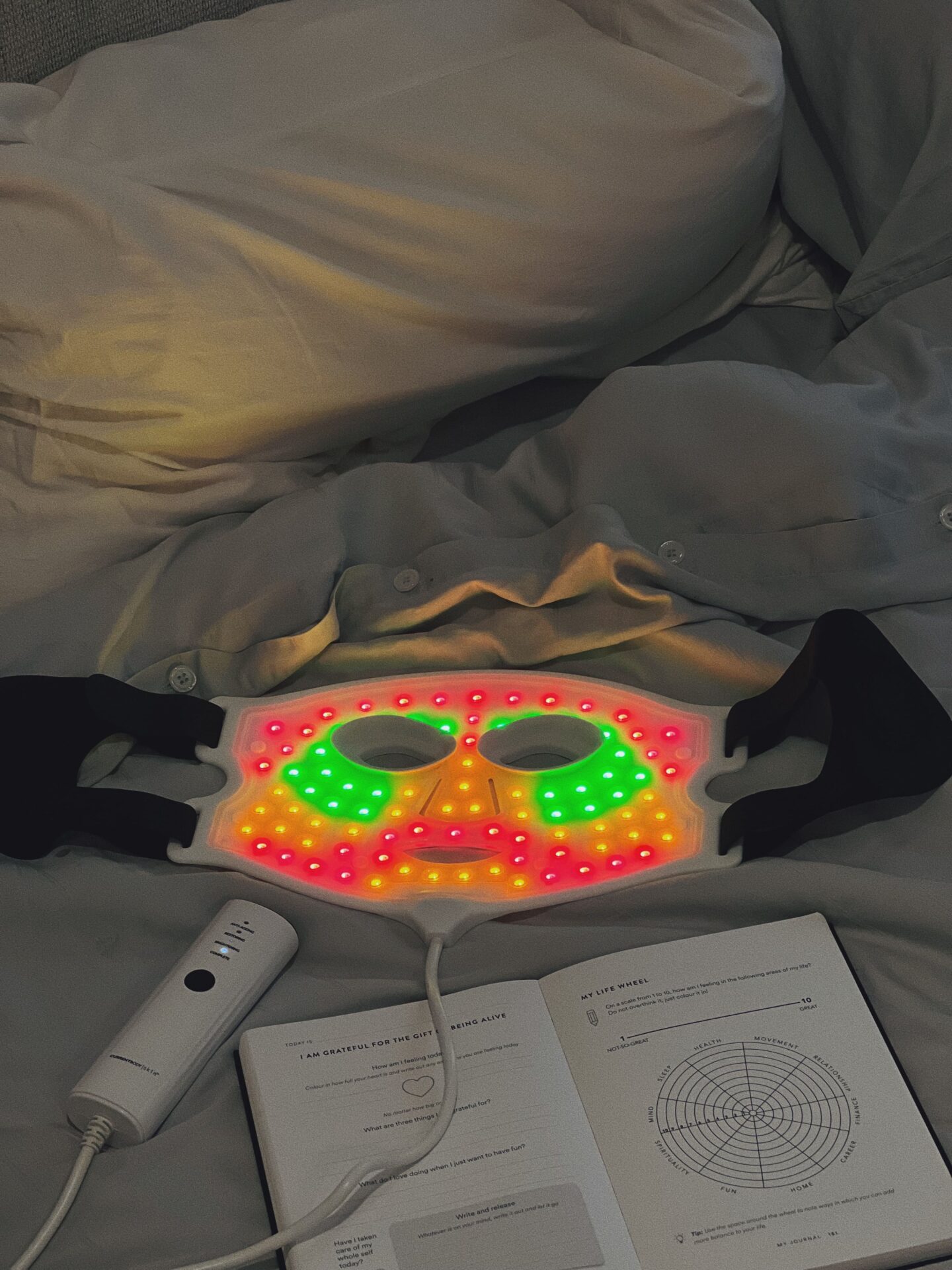 It's equipped with 132 LED bulbs with red waves, which are mainly effective in calming redness and improving skin tone. The near-infrared goes beyond the skin's surface, improving the blood circulation and oxygen supply to skin cells.
Notably, the CURRENTBODY Skin 4-in-1 LED face mask is comprised of five LED radiant wavelengths that have been deftly incorporated into four treatment symphonies, addressing everything from dull complexion to the most delicate fine lines and wrinkles.
Within the domain of red (anti-ageing), it deftly reduces the appearance of fine lines and wrinkles through a performance of collagen stimulation.
💛 Yellow & NIR
The yellow domain (restoring) radiance assumes a prominent role, that expedites the process of skin rejuvenation, imparting a more rapid recovery time and augmenting the skin's luxurious texture and elasticity.
💚 Green & NIR
The green spectrum (brightening) spotlight centres around hyperpigmentation renewal, rendering a quicker healing process and an opulent improvement in skin texture and elasticity.
The last mode in this device is called Complete (Zone Mapping) — addressing an array of skin concerns using targeted LED Facial Mapping. Undoubtedly, a sensory symphony for the epidermis.
The CurrentBody Skin LED Face Mask's Pillow Technology™ intelligently disperses LED light, delivering optimal coverage throughout the skin. The purpose of this cutting-edge technology is to guarantee that the emitted light extends to every corner of the skin, delivering a thorough and uniform treatment.
4. Benefits of Using the CurrentBody LED Face Mask
Regular use of this mask promises a 35% reduction in wrinkles within 4 weeks, with 95% of users reporting improved skin tone, texture, and firmness. Additionally, it helps in reducing pigmentation spots and scarring caused by acne and inflammation.
Key Skin Benefits That I've Observed:
· Soothes my skin inflammation and improves my skin healing (acne scar)
· Visible reduction in the appearance of pigmentation
· Skin looks more luminous and healthier in just 4 weeks!
before

visible freckles around the cheek region

after

brighter and more flushed look
5. User Experience and Effectiveness
CurrentBody users report noticeable improvements in skin brightness and luminosity from the first use, along with reduced breakouts and faster healing of existing ones. The mask is easy to use and comes with a built-in timer for convenience.
6. Safety and Considerations
LED light therapy is generally safe with minimal risks. The primary objective of this therapy is to enhance skin quality and foster a healthy skin barrier function. Unlike some other light-based treatments, such as lasers, LED therapy does not generate heat and is less likely to cause damage to the skin.
(Please conduct a sensitivity test on your arm before the first treatment. If you have specific skin issues, please consult with a dermatologist or skincare professional to ensure it is suitable for your skin).
7. My Thoughts!
In my journey of embracing innovative technologies for better maintenance of my skin health, I fell in love with CURRENTBODY Skin 4-in-1 Face Mask! In just 4 weeks, I've seen visible healthier changes in my skin. My skin has always been a story of my well-being and self-care. In the pursuit of radiant health, I've come to realize that skincare is not just a routine, it's a reflection of the attention and care I invest in myself.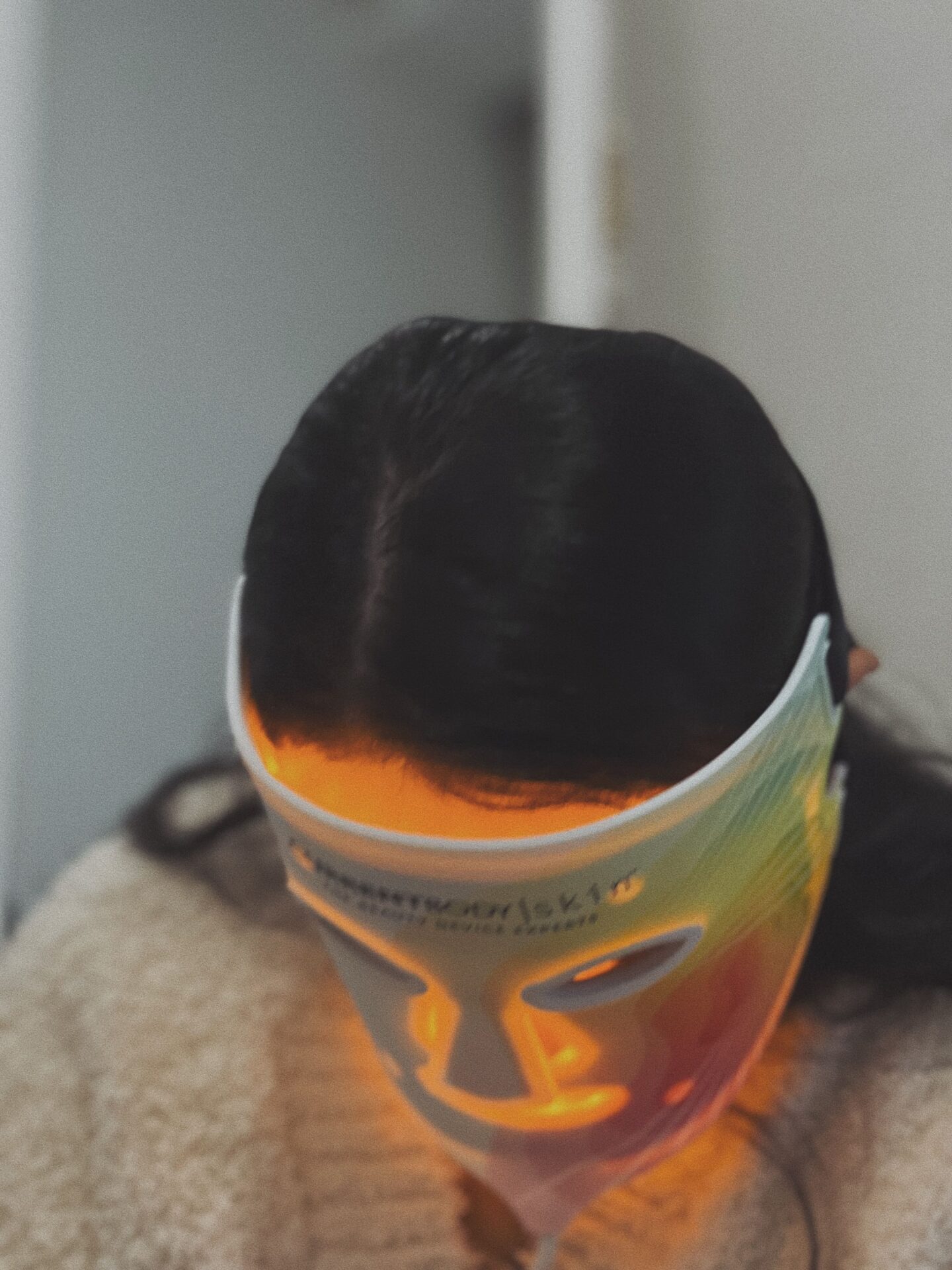 The older I get, hyperpigmentation and dull skin have become the focal point of skin concerns. With the CurrentBody Skin LED 4 in 1 facemask, my go-to LED colour options are yellow and bright green – it's a promise to encourage cell renewal and to signify a nuanced strategy to combat hyperpigmentation. This deliberate choice aligns with my commitment to nurturing my skin back to vitality by embracing a holistic approach to wellness.
CurrentBody embodies the fusion of technology and beauty care.
Its effectiveness in enhancing skin appearance, along with its ease of use and safety profile, makes it a compelling choice for those seeking to incorporate advanced skincare technologies into their skincare routine.
Remember my loves, skincare isn't just about addressing concerns – it's a testament to the importance of taking mindful steps toward self-love and self-reflection.
Till next time!
---
Frequently Asked Questions:
Where is CURRENTBODY Skin from?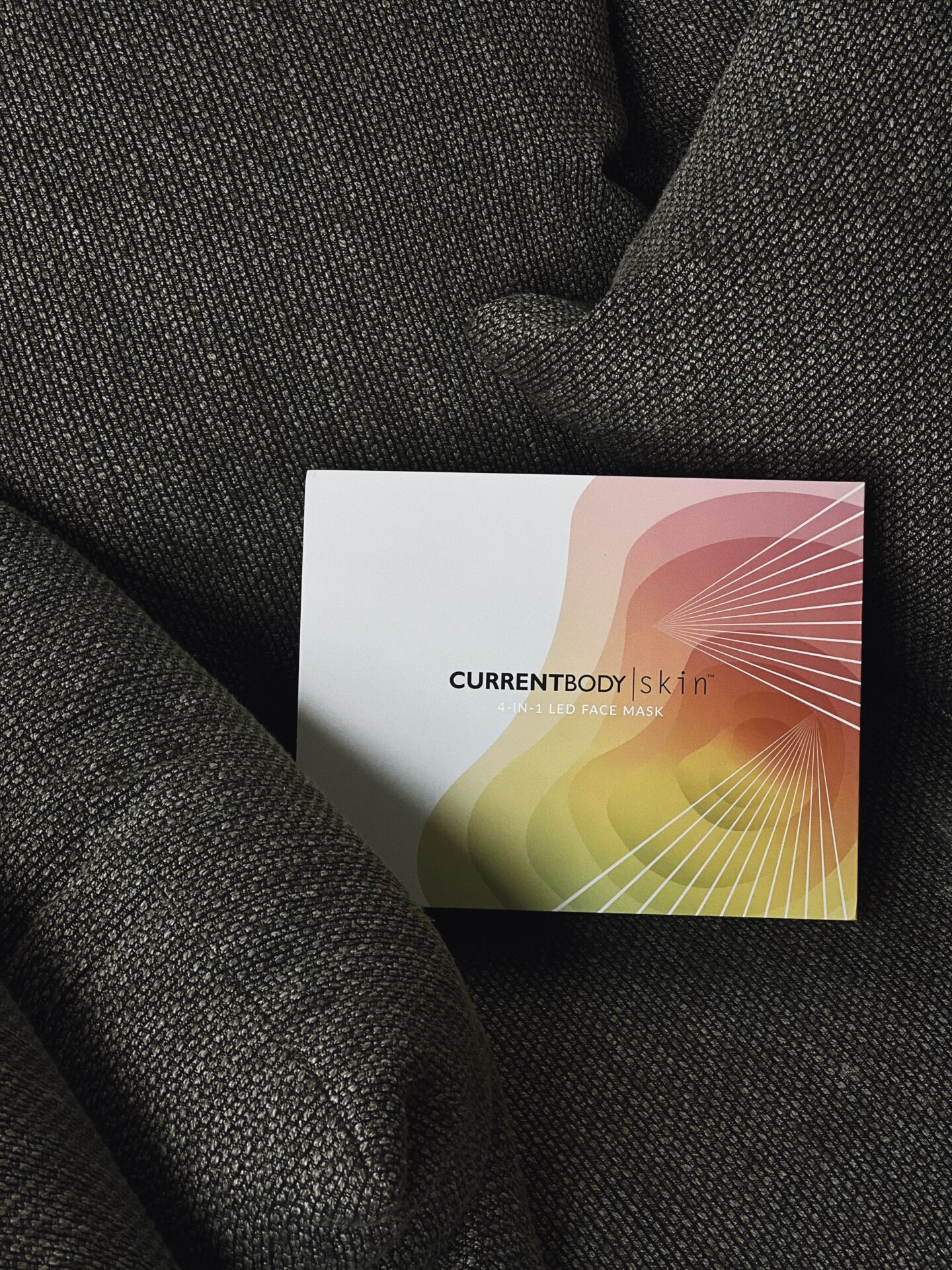 CURRENTBODY Skin is the UK's leading and most trusted beauty technology retailer. CurrentBody Skin LED Face Mask is described as the world's most powerful anti-ageing LED face mask​​, combining red and near-infrared light to stimulate collagen production and promote cell renewal. This mask stands out for its patented flexible silicone design, ensuring uniform light delivery across the face.
What's in the 4-in-1 box?
CurrentBody Skin 4-in-1 face mask
Velcro head strap (2 pieces)
USB-C charging cord
Storage bag
User manual
Comfort goggles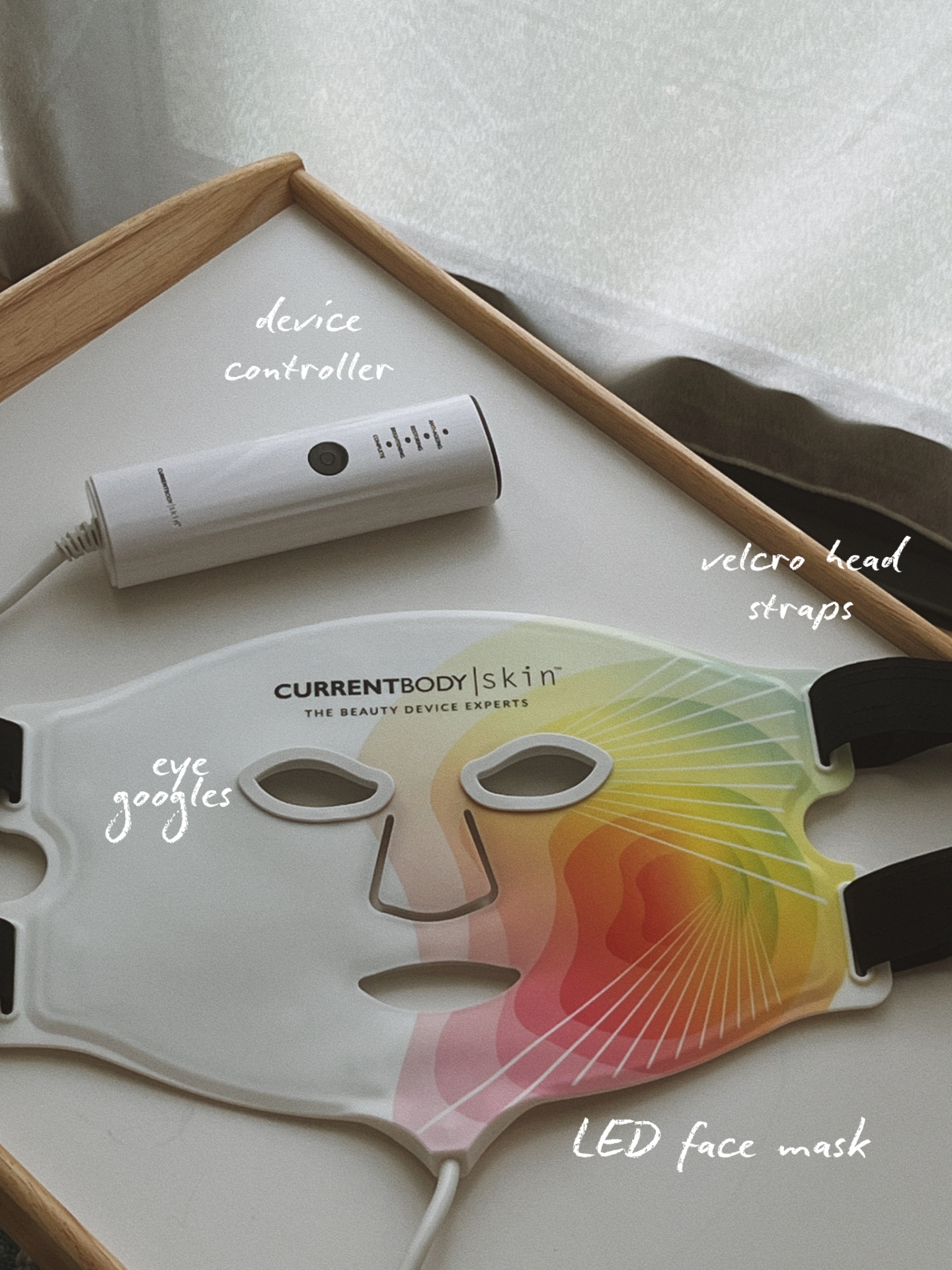 What's the right way of using the CURRENTBODY 4-In-1 LED Face Mask?
This LED mask is pretty easy to use. After cleaning your face and patting it dry, just put on the mask and secure it with the Velcro straps. Grab your controller and begin the treatment that will auto-end after ten minutes. You can apply your normal skincare after the treatment, it will be absorbed better.
Is CURRENTBODY 4-in-1 LED Face Mask Effective?
Absolutely! In just 4-6 weeks you can achieve firmer, more luminous skin.
How often should you use the CURRENTBODY 4-in-1 LED Face Mask?
For visible results in 4 weeks, it is recommended that you apply the mask for 10 minutes each day, 3 to 5 times per week.