My skin healed from pimple scarring only by using mangosteen powder and honey as a natural face pack. Have you ever heard of the fruit mangosteen? No, it's not part of the mango family, in fact, they are not related to the mango heritage at all. Mangosteen is one of the most delicious and best flavoured tropical fruits, known as the queen of fruits in Asia. It is scientifically known as Garcinia mangostana – A tropical tree believed to have been originated in Indonesia and is widely available in several southeast Asian regions.
I have been sharing on my skincare recovery journey on my Insta stories due to PCOS acne and Ezcema on how I have been using natural herbs – just name it from tomatoes + honey to mangosteen powder paste to heal my pimple scarring. Remarkably, all of that methods healed especially mangosteen powder paste.
Benefits of Mangosteen powder?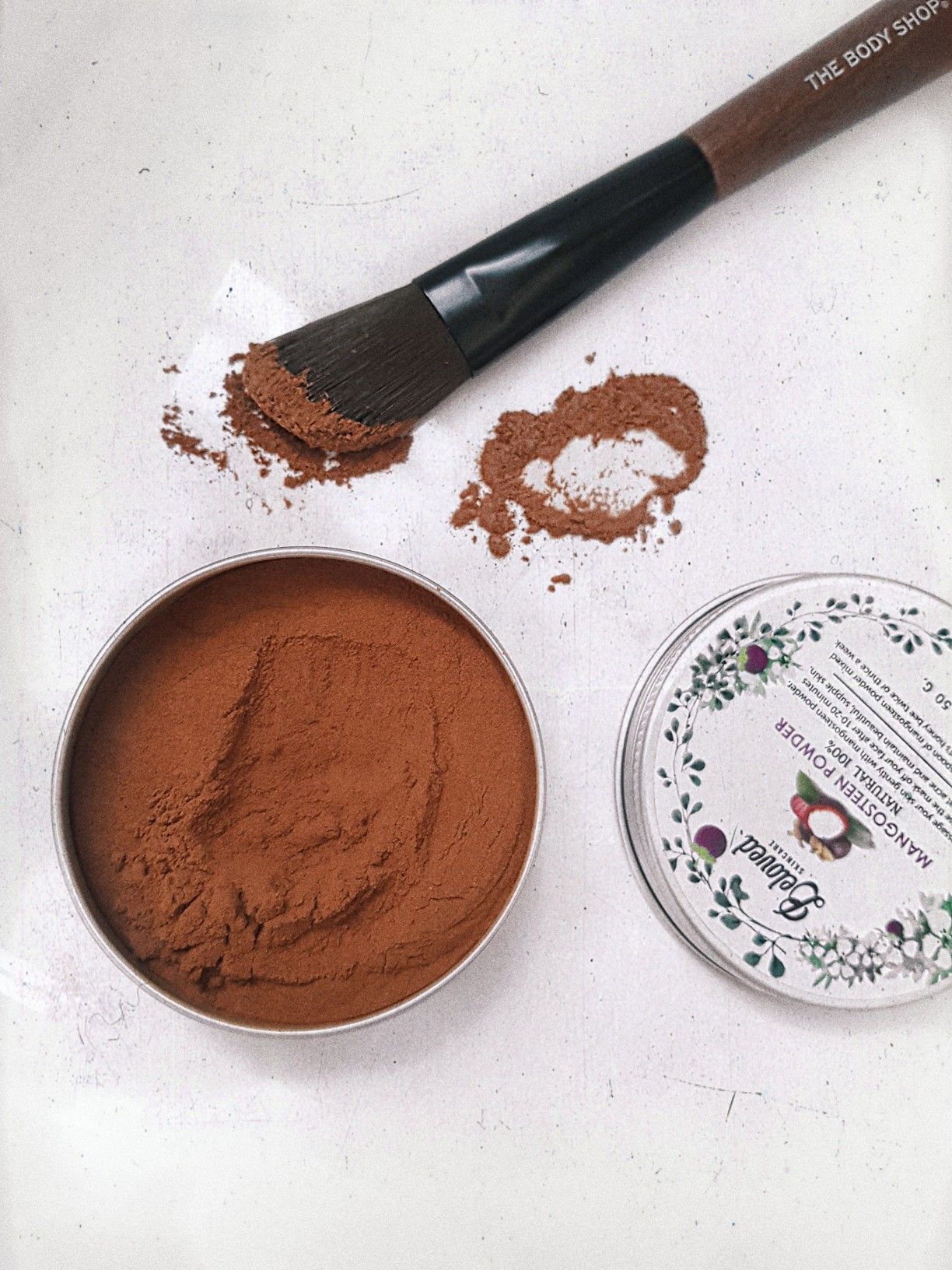 Mangosteen has natural antibacterial properties and anti-microbial compounds which is highly effective in treating common skin problems such as acne, skin blemishes, oily and dry skin can be cured by the consumption of mangosteen alone. So imagine the goodness of the fruit when applied to your skin? The compound that's present in the fruit's skin called 'Xanthone' helps to defend our skin. It promotes microcirculation which improves the appearance of skin vitality and radiance. These can cure skin diseases, repair the damaged cells in your body and protect them.
How I Cure Acne Scar Using Mangosteen Powder?
Separate the rind from the flesh. Make sure to use fresh mangosteen while they are still soft.
Then, take the mangosteen chunks into the blender. You don't need to pour water but just blend them as the fruit is already wet. Into a fine powder paste and pile them on a tray.
Grate the dried mangosteen.
Dry mangosteen for 3 days.
Processing mangosteen into powder can be a tedious process therefore at times I get them from any skincare online store that sells organic mangosteen powder here in Malaysia. Watch the video above and learn how I get them into a paste. I usually add raw honey to get a paste texture as honey contains antioxidants, antiseptic, and antibacterial properties that help to rid your skin of blackheads by removing dirt from pores. So both of these natural ingredients go hand in hand as shown on my Youtube video.
Another method: Mangosteen paste
In a clean bowl add the mangosteen skin pulp and milk, mix them well until you get a smooth paste. This process will absorb lots of milk so add up the milk till you get desired consistency.
Start applying this mangosteen pack all over your clean face and neck and leave for 20 mins.
Because Vitamin C is high in this fruit, always do a patch test before using this pack because it may cause irritation to some skin type.
This fruit can help you feel refreshed and energized all day long. Its nutrients will help you look more refreshed and youthful.
Aging comes about due to oxidation. Mangosteen is filled with an antioxidant such as catechin (the antioxidant found in green tea) that helps in fighting free radicals. Hence, start consuming mangosteen to look younger.
There you go, get your acne scarring healed by using mangosteen. That's how I healed mine and so can you.