Kiehl's is no stranger to the skincare world. This brand has its firm ground in the skincare industry that's pretty solid & unshakable, ahem nope this is not a sponsored post, I'm just sharing the goodness of this product to each one of you who needs a change in your mask routine. I have used a ton of skincare products that claim brightening and radiance-boosting properties but by far this mask proves it all. If you're looking for an instant face brightening in under 15 minutes for dull + tired skin, this is your magic product. I've been using this product for 4 months now, and it's done a great deal of justice for me.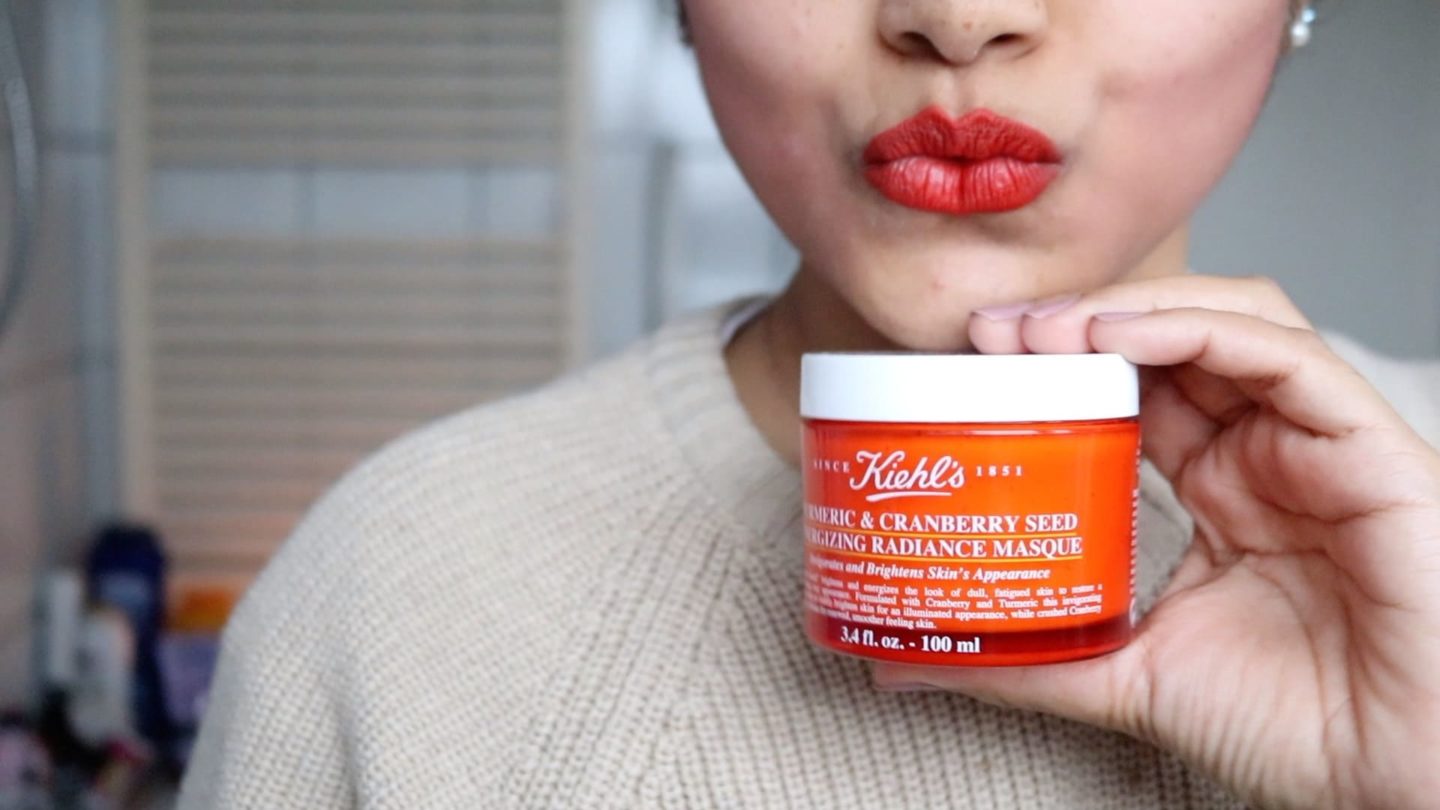 When Kiehl's Turmeric and Cranberry Seed Energizing Radiance Masque caught my eyes at the shopping center, I saw a glimmer of hope. I took home with me 2 sample packets to try out first before purchasing the entire product because I wanted to make sure the product doesn't conclude any irritation on my skin since I have eczema but like the label of the product that says, "energizing" and "radiance" right in the name, I felt a surge of optimism for my sad, tired skin. hehe
Before I share in detail on the Kiehl's Turmeric & Cranberry Seed Mask, I'd like to suggest you watch my Youtube video below where I've shared my skincare journey in a personal manner. Kindly subscribe & support my Youtube journey girls.
The Masque Ingredients:
The name of the masque has already given away the key ingredient to this magic mask, tumeric and cranberry seed. Turmeric is known in an Indian household for years now and my own grandma uses it as a face mask pack on her skin. It's great to help reduce acne and any resulting scars. The anti-inflammatory qualities can target your pores and calm the skin whereas, the cranberry seed adds a gentle manual exfoliation.
Turmeric – A top player when it comes to dealing with acne as it's anti-inflammatory and antioxidant. It helps clear acne scarring by brightening the skin and reducing inflammation as well as reducing oil secretion to help calm breakouts. There are many DIY face mask recipes that use turmeric and lemon juice but tread carefully as it will stain your skin a yellow color that's not the easiest to remove. Hence why I opted for the Kiehl's Masque instead.
Cranberry – A natural antioxidant and source of resveratrol which contains natural AHAs. The crushed cranberry seeds add a gentle manual exfoliation property to the masque. Just before washing off, I like to lightly massage the mask into my skin a little more to activate this process. It refines skin texture and adds to the brightening and radiant effect.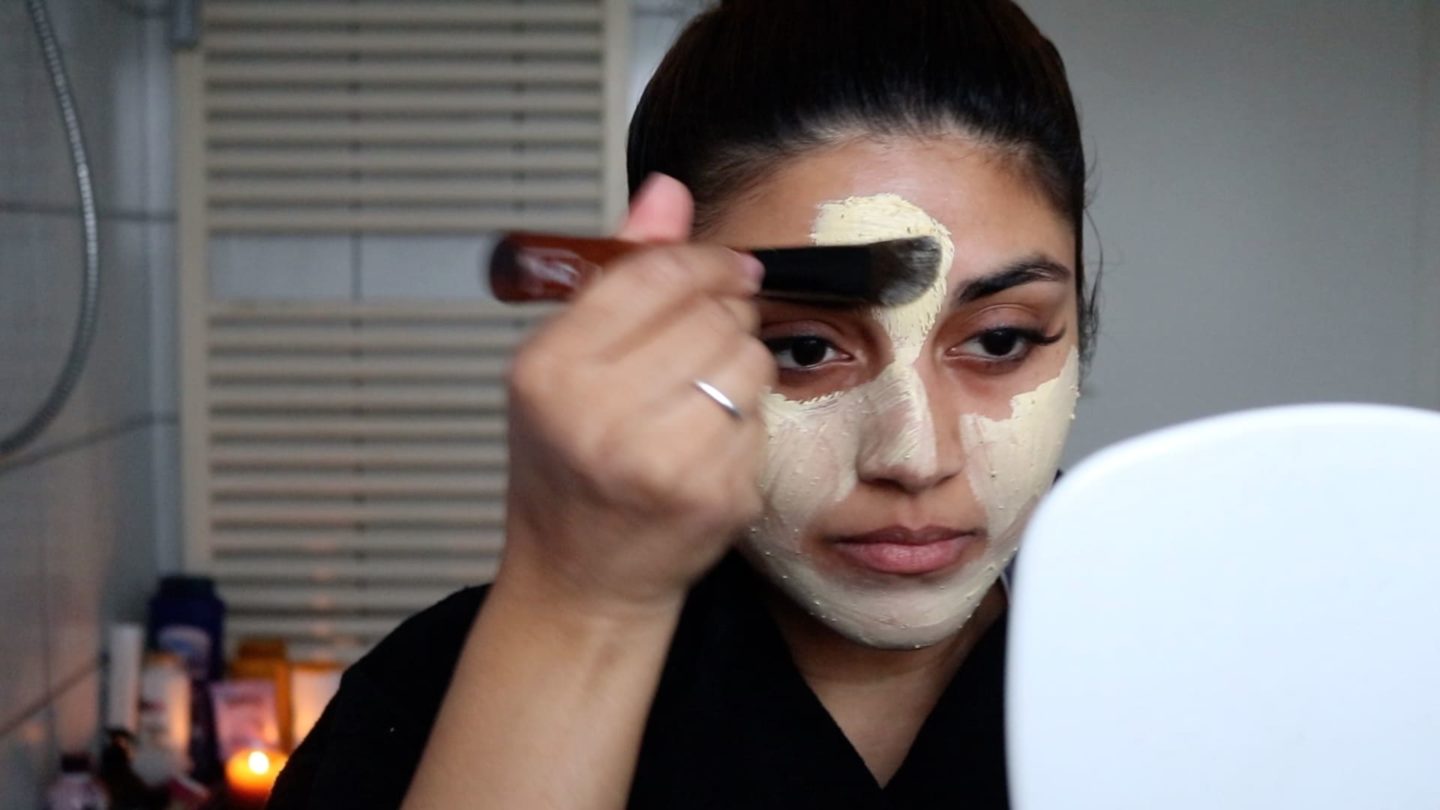 How To Apply The Turmeric & Cranberry Seed Masque on your skin | REVIEW
On clean, dry skin, apply a layer of the mask to the face avoiding the eye and upper chin area. It will dry within 10-15 minutes and you can then wash off with warm water. I've left it on for 25 minutes max before with no issues.
Yes, it does smell like turmeric but it's not a spicy in your face and between the eyes hit. It doesn't make my eyes water when applied and as it's drying on my skin I can no longer pick up on the scent.
When I first applied the mask on the skin, it does give a slight heat sensation on the skin but it disappears after a few minutes. My skin was not red, sore, or agitated afterward/during the masking process so I'm gonna say it's a good kind of heat sensation I felt. However, if you have incredibly sensitive skin, patch test first.
I love that although this is a clay mask, it doesn't dry too hard that the skin that leaves you unable to speak or move your mouth lol. However, it's a little tough to wash off the cranberry seed so it's best to wash off with lukewarm water. I personally enjoy using this mask, it leaves my skin rosy, smooth and clean. This is the first face mask I've ever tried from Kiehl's and I'm impressed. I use this at least once a week and will continue to do so. Girls, if you have dull or stressed skin – this one's for you!