Fenty Beauty is taking the makeup world by storm! The Fenty Beauty Killawatt Freestyle Highlighter Duo has been selling like no other.
She mentioned in her audio launch "so that women everywhere would be included," focusing on a wide range of traditionally hard-to-match skin tones, developing formulas that work for all skin types, and pinpointing universal shades.
Her vision, above all, is to inspire: "Makeup is there for you to have fun with. It should never feel like pressure. It should never feel like a uniform. Feel free to take chances, and take risks, and dare to do something new or different."

Rihanna
Fenty Beauty collections feature 40 shades of foundation, cream and powder highlighters, concealers, one universal lip gloss and much more. Today I'm going to share my review on the Killawatt Freestyle Highlighter Duo|Mean Money/Hu$tla Baby. The Killawatt Highlighters are in six shades at Sephora, along with the rest of the cruelty-free Fenty Beauty line.

Fenty Beauty Mean Money/Hu$tla Baby is a soft champagne sheen/ supercharged peachy champagne shimmer and retails for MYR 145.00 and contains 0.28 oz.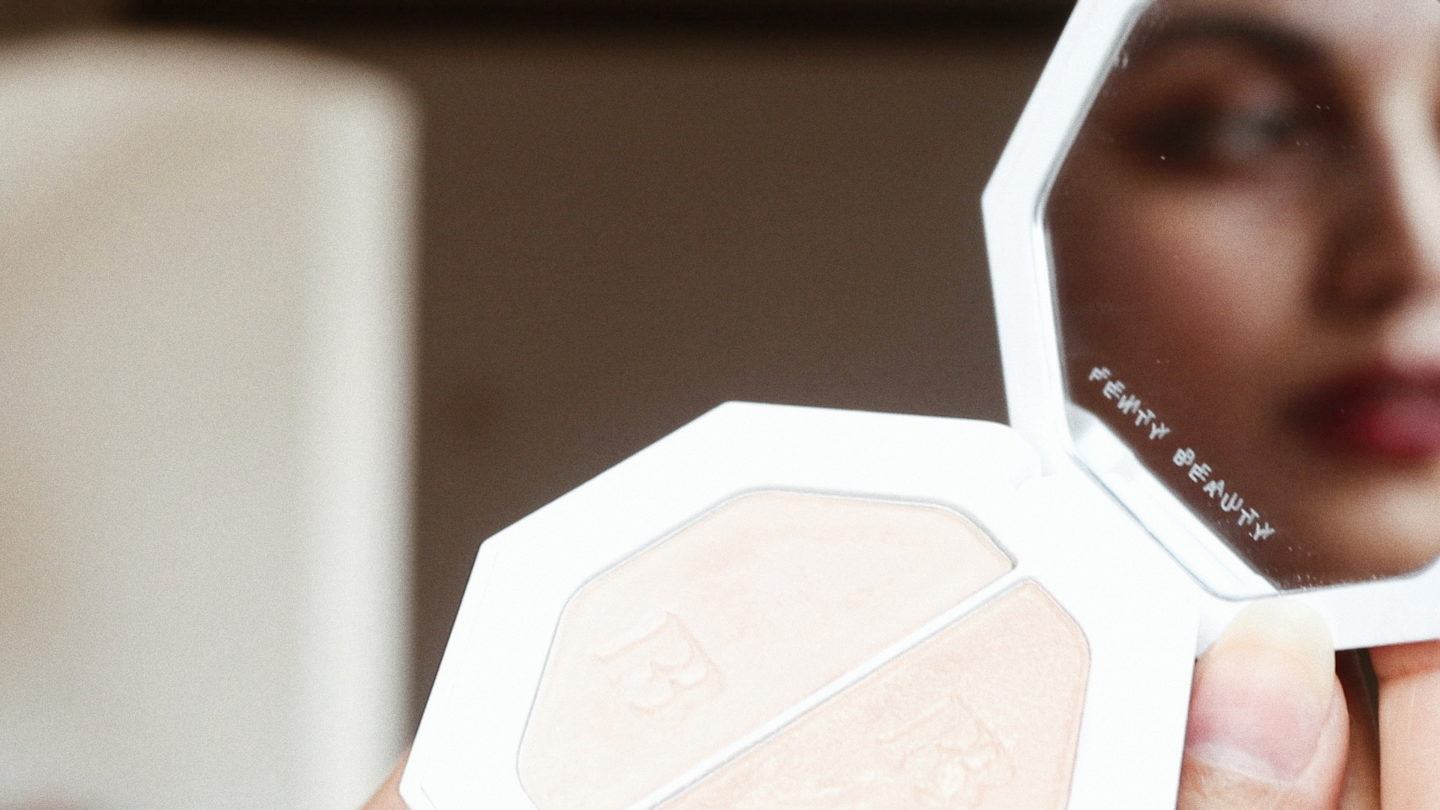 What it is –
Weightless cream-powder hybrid highlighters that range from subtle dayglow to insanely supercharged in expertly paired duos.
Brand Description:
Light up where you want, when you want. Killawatt Freestyle Highlighter was born to reflect your every mood with its lineup of curated duos. Each duo features a subtle sheen on the left that's perfect for day and supercharged shimmer on the right, a killer for the night. With a dose of skin-glorifying color, Killawatt ranges from subtle dayglow to insanely supercharged with shades that were designed for all skin tones. Unlike your everyday highlighter, it keeps skin lit beyond sundown with a weightless long-wearing formula—–a cream-powder hybrid that instantly melts into skin and blends with almost zero effort.
Another win: It's loaded with superfine shimmer for an ultra-smooth, creamy texture. For killer radiance, Killawatt's your go-to for highlighting your face, eyes, lips, collarbone…. literally anywhere you crave a touch of light.
My Choice: Killawatt Freestyle Highlighter Duo|Mean Money/Hu$tla Baby
My favorite highlighter out of all of them was the color Mean Money/Hu$tla Baby, which I end up getting it. It was a tough choice to choose among all the stunning colors but I made a great choice.
I loved this one so much because out of all of them it was a color I had never seen before in a highlighter and it is a warm coral peachy tone with a metallic finish that is permanent/lasts. This one is absolute perfection for brown/Indian skin tones. They are also perfect for eye-shadows applications.
This highlighter is surreal because of it's high pigmented color and with just one swipe of brush you got enough for a perfect sun-kissed cheek! One of my favorite thing about this highlighter is that it's a natural-looking highlighter. You can use this highlighter for everyday use if you want to.
The most exciting part of all, Fenty Beauty is 100% cruelty-free!
Pros:
It is a very high pigmented.
It leaves a natural-looking dewy glow.
It is cruelty-free!
The packaging is simple, elegant and easy to carry in your pouch.
Affordable.
I am beyond satisfied with Fenty Beauty! I cannot wait to try her foundations and lipsticks later on. She's defo earned a fan of her brand and I am thrilled to see her other beauty line releases! What's your favorite killawatt freestyle highlighter, share them below!