© ALL RIGHTS RESERVED
This blog review was made in collaboration with Neutrogena Malaysia for the newest Bright Boost skincare set and all opinions are my own.
Don't we all treasure our skin? It is every woman's asset and no one wants dry-looking or uneven skin texture or tone. Me neither! To remain hydrated and moisturized, your skin, therefore, needs to be pampered and taken care of by a trusted and approved skincare regimen.
A short while ago, I realized that my skin was tilting towards the borderline of dryness and dehydration. This sent me on a hunt for the best skincare product for skin hydration and restoration and right on time, I received my newest media kit from Neutrogena Malaysia ­– the newest launch of Bright Boost. So is your skin sinking in this boat of dryness and ageing? Don't worry, the solution is here!
What is Neutrogena Bright Boost?
Neutrogena Bright Boost is formulated with Neoglucosamine. It is Neutrogena's most innovative way of combating your skin's dullness and ageing. It is saddled with the responsibility of restoring brightness and awakening your skin by boosting its surface cell up to ten times.
How to Restore Your Skin with Neutrogena Bright Boost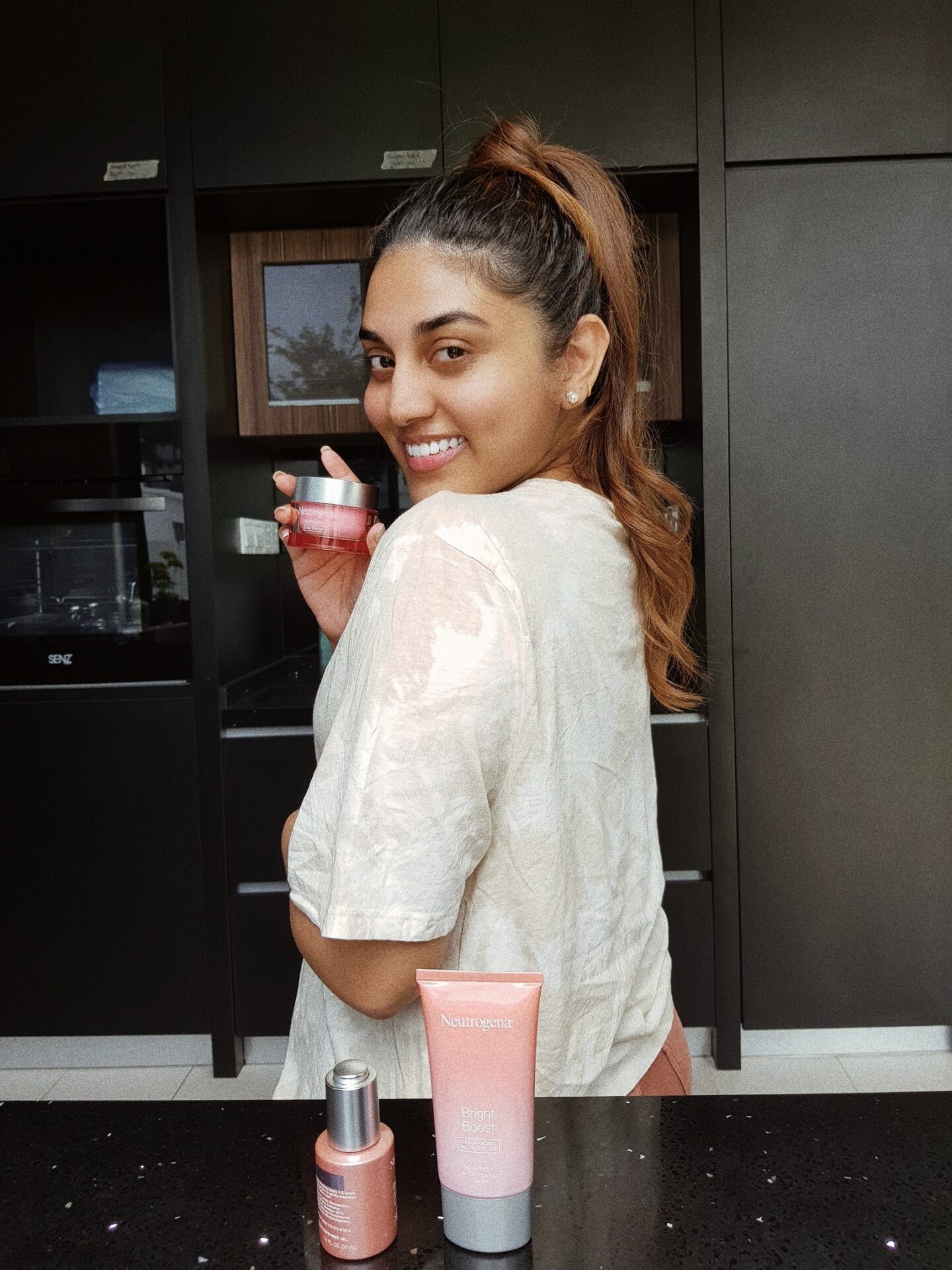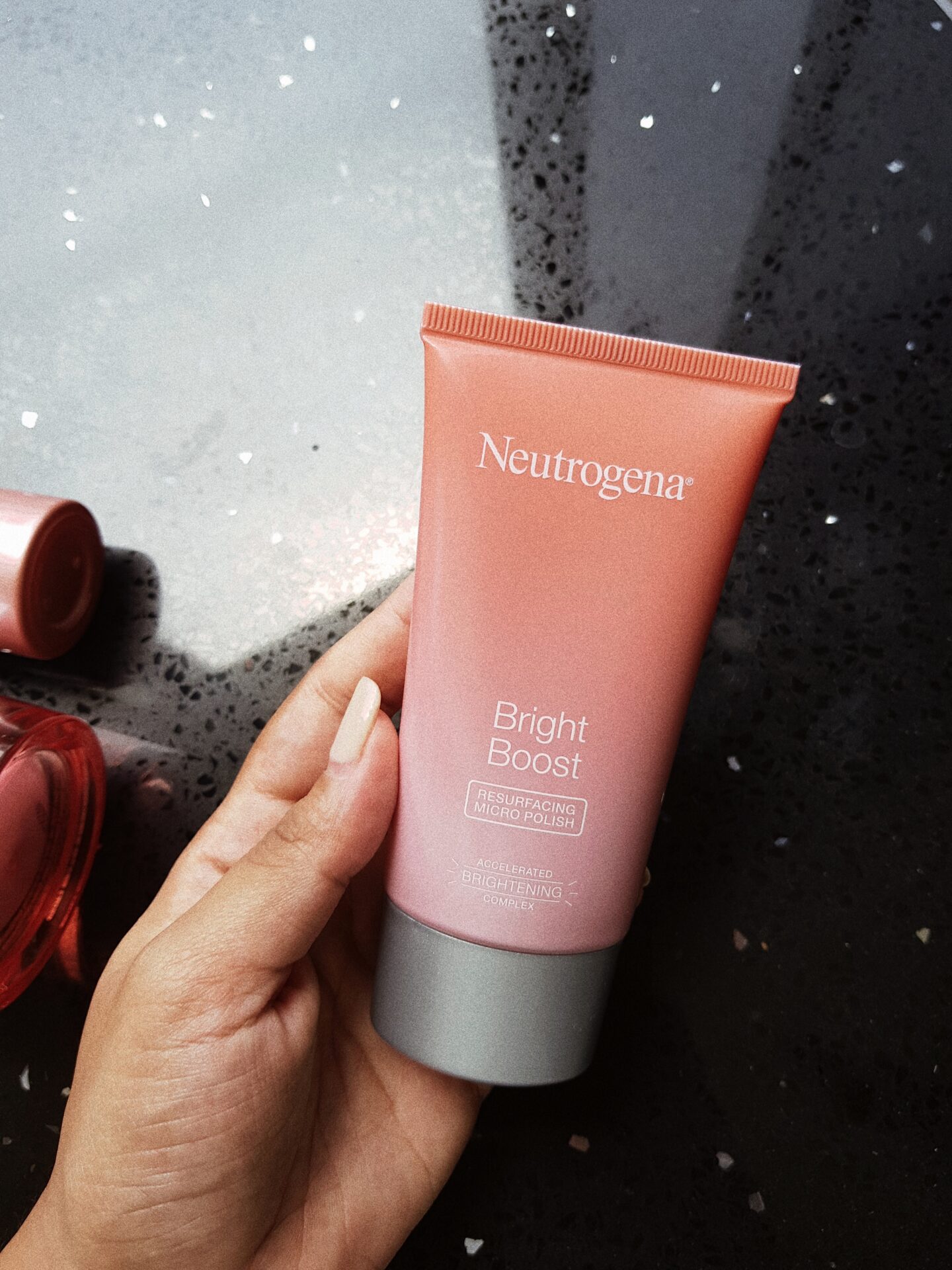 1. Bright Boost Resurfacing Micro Polish Face Wash
Nothing best restores your skin than the Neutrogena Bright Boost Resurfacing Micro Face Wash. It is an exfoliator that gently exfoliates your skin to remove the dead cells that cause aging and dullness. It comes with a thick but delicate consistency that leaves your skin soft and radiant.
Determined to give you the very best, this Neutrogena micro polish is developed with chemical-free skin smoothers. It is also formulated with mandelic acid (AHAs) and Glycolic. Incredibly, I noticed that its polishing power is at least three times more than my usual scrub, leaving my face bright, and smooth.
Wondering how this is to be used? It's simple. Gently apply the Neutrogena micro polish to your hands and massage it onto your wet face in a circular rhythm. Rinse your face with water and dry off. Do this once or three times a week. You will find out as I did that this product is gentle on the skin and doesn't dry out your skin.
2. Bright Boost Illuminating Serum
This Neutrogena product is a facial serum that treats and improves your skin tone and texture, leaving it bright and smooth. It is formulated with Neoglucosamine and natural turmeric extract. This aids in exfoliating your skin and reducing hyperpigmentation and dark spots.
It is perfect for when you want to bring out the natural glow of your skin. You can apply this by putting about four or five drops of the serum into your palm. Using your fingertips, tenderly massage it into your face. I did this every morning and evening and soon I noticed that my skin was once again hydrated and refreshed.
The Neutrogena illuminating serum comes in a soggy consistency, but fret not, it was designed this way. Due to its viscosity, it does not fully soak up into the skin. This is because it is leaving room for the moisturizer which is the third product of the Neutrogena Bright Boost.
3. Bright Boost Gel Cream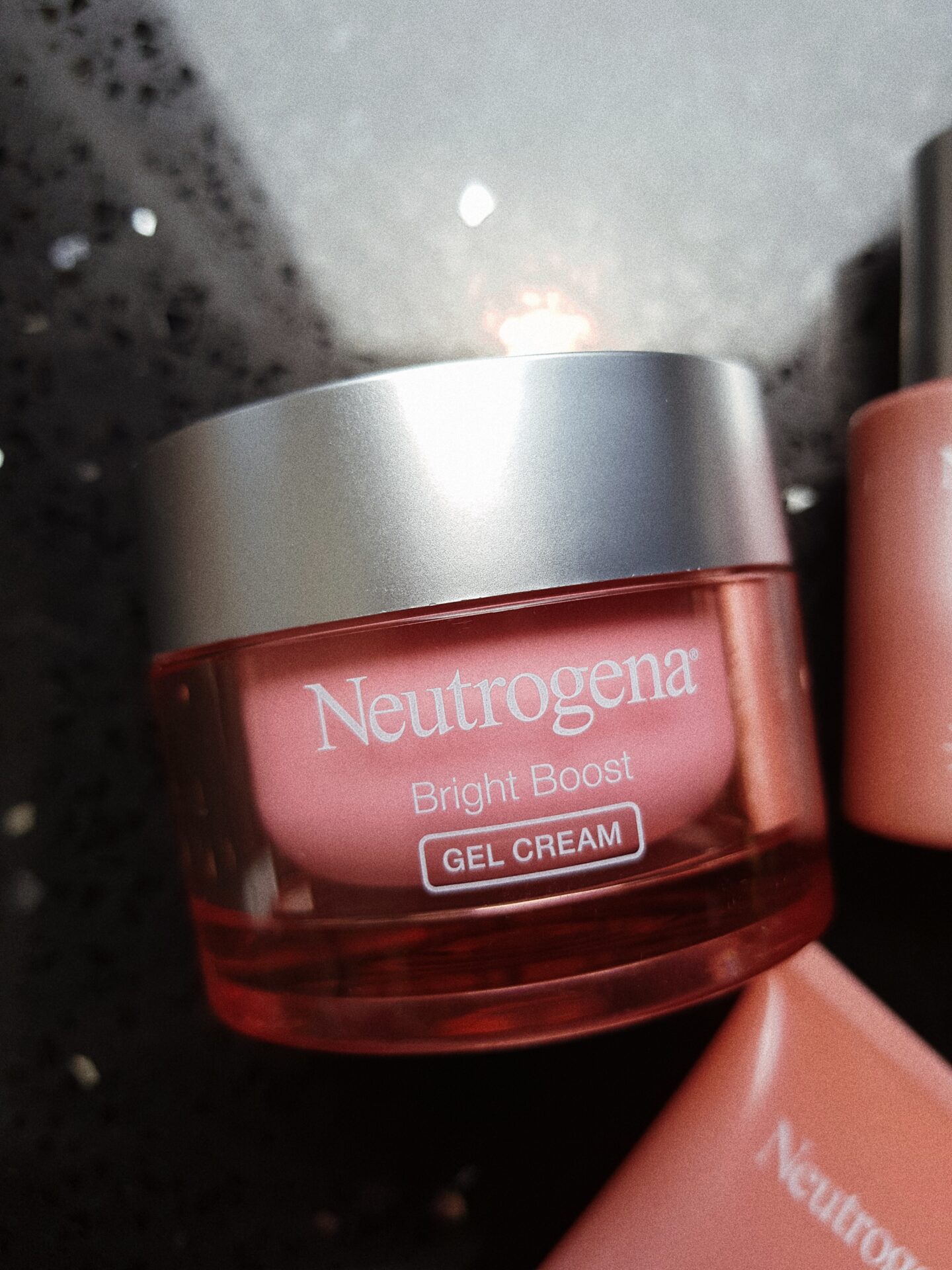 This Neutrogena Bright Boost facial gel cream is multi-faceted. It removes dark spots, reduces dullness, and brightens your skin almost instantly. Within one week of using this product, I was already seeing tangible improvements in my skin texture and tone.
It is developed with PHA, Neoglucosamine, and mandelic acid which brightens and restores the innate glow of your skin. Also, you need not worry about your sensitive nose because this one comes with a refreshingly floral scent. Its consistency is thin which allows it to absorb into your skin instantly.
You can apply it to your neck and face two times a day. Gently stroke and massage it into the required areas until it is fully absorbed into your skin. I religiously did this for just a while and the outcome was mind-blowing. My skin became moisturized and hydrated. The result was an unbelievably bright and radiant glow.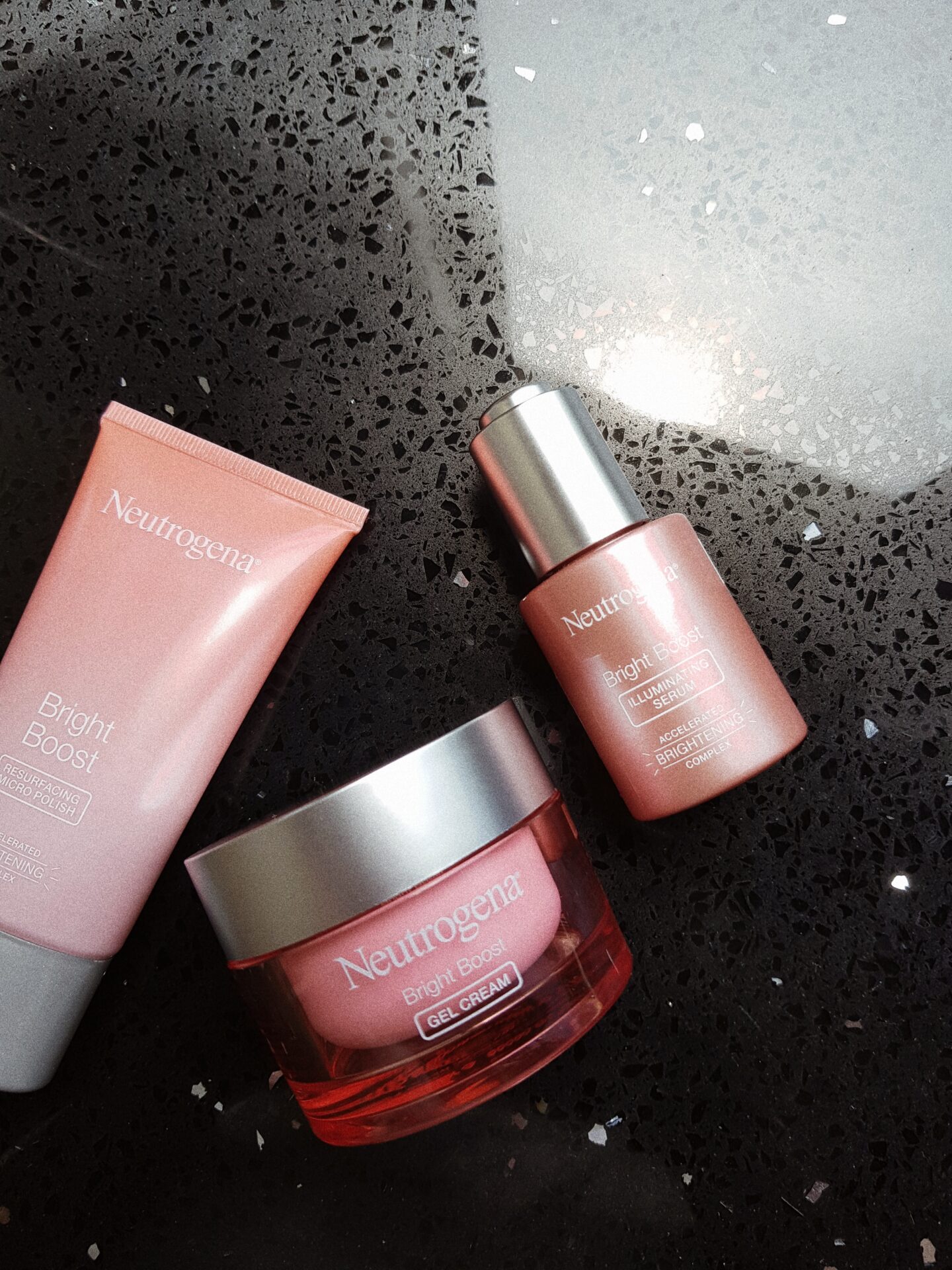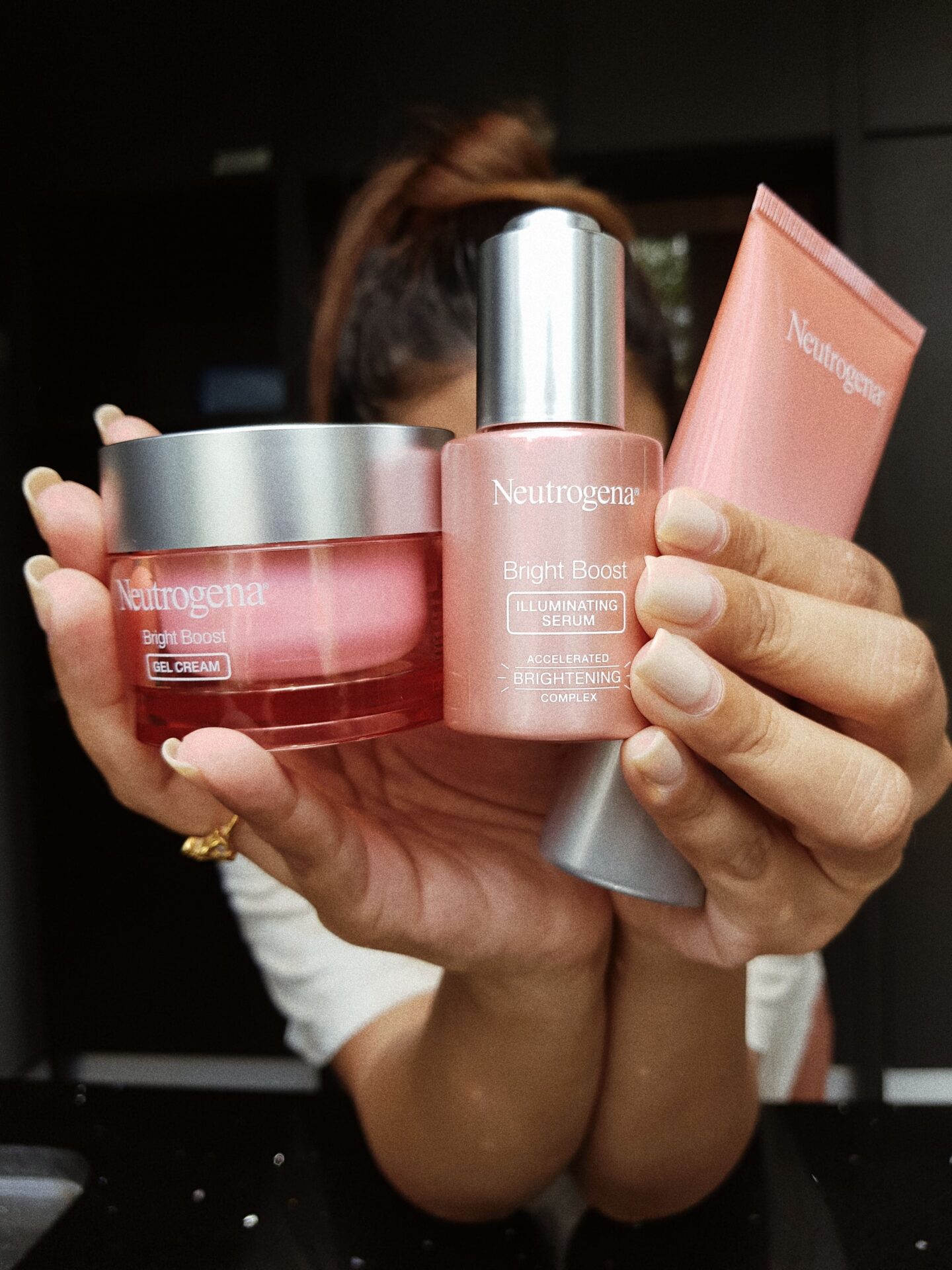 Indeed, these Neutrogena Bright Boost products are the perfect skincare regimen for dry and aging skin. They are guaranteed to moisturize, tackle dullness, and restore your skin's brightness. Wondering if you could use this even though you have been using Neutrogena Hydro Boost? You sure can. It is an amazing anti-aging product that will greatly combat your skin's dullness and aging.