After arriving in Germany a couple of weeks later, I fell sick due to the extreme weather condition and oh man! It took me some time to heal from the cold and flu (I am slowly adapting the climate change now though). When I touch down Germany, it was -3 degree so y'all know what I mean.
It was totally unplanned when I set out a plan to visit Germany's most famous place – Munich. Munich's mix of history, culture and plenty of beer makes it unique. Germany's southern capital is the heartland of Bavarian culture. And there's never a bad time for a trip to Munich. Come in the summer for the beer gardens, autumn for Oktoberfest, winter for the Christmas markets or spring for flower-filled parks. It doesn't have to cost a fortune to visit either. So here are my tips for making the most of Munich on a budget.
Walking is a great way to get your bearings in a new city – especially one as big as Munich. Before heading out to Munich, I Googled search the must-see places in this iconic city and screenshot important details and saved it on my phone. I started off around Mary's Column as we parked our car nearby the city center parking garage and what's fascinating is I wanted to visit Marienplatz but I didn't know Marienplatz was right in the middle of the busiest, compact, tourist city! Rather, I walked right out of the car park and bumped into this beautiful monument. One word to describe my emotions – I felt like I walked into Paris city all over again. Reminiscing my European – French – Tourist – Moments.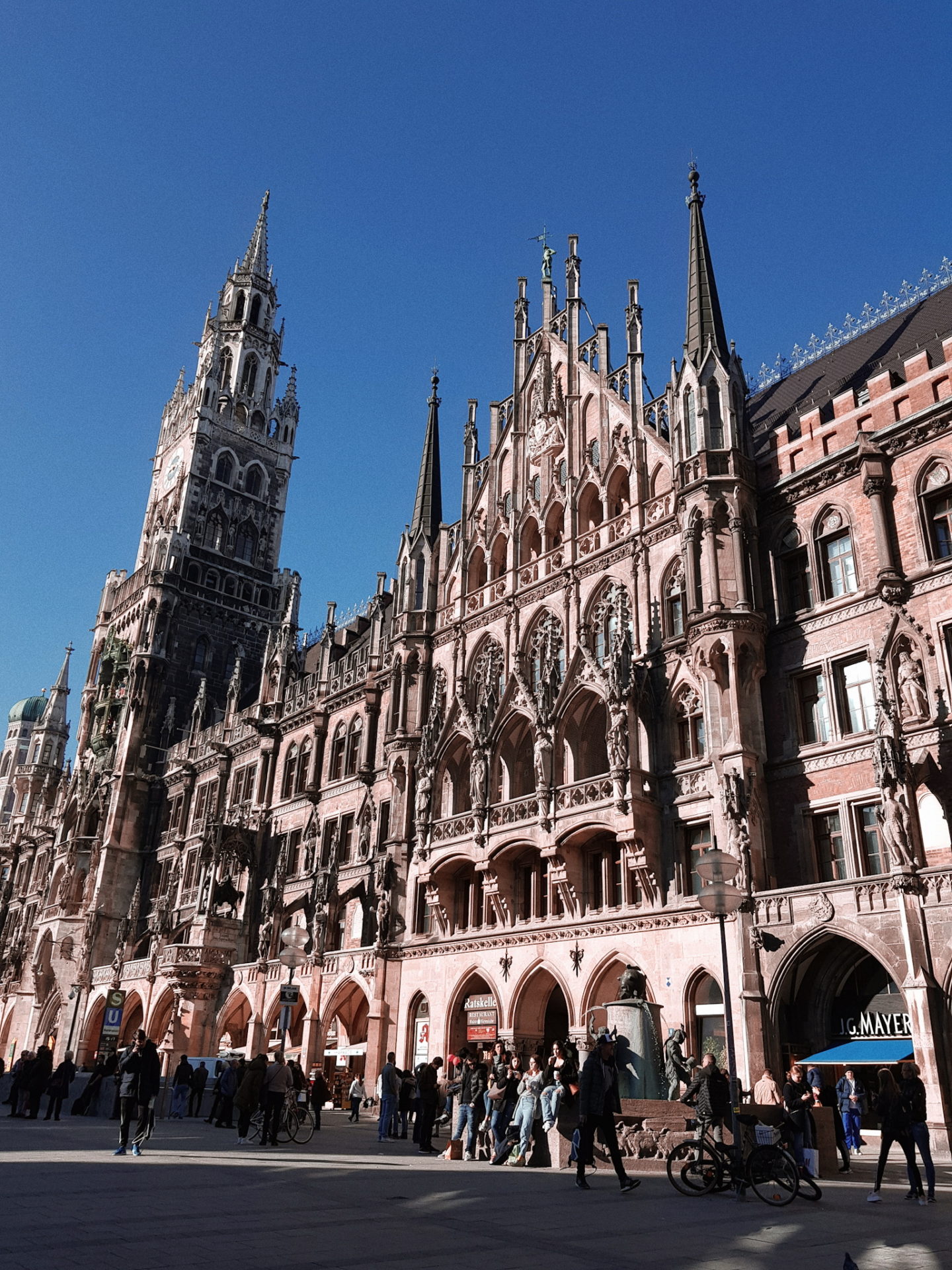 Walking down history lane
Marienplatz is known as Mary's Square, St. Mary or Our Lady's Square. Back then, the square was known as 'market square', a central gathering place for farmers and artisans looking to sell their crops and produce, making it the primary commercial hub in the city. Marienplatz gained international notoriety as an important tourist destination in Munich during the 1972 Olympics.
Also, I witnessed a fascinating clock show for which I misunderstood it for the church bells. It was spectacular! The famous Glockenspiel starts at either (11 am, 12 pm, and 5 pm daily) in the tower alcove of the New Town Hall. Munich's most famous clock puts on a 15-minute show with scenes from Bavarian history, using 43 bells and 32 life-sized figures (check out my Youtube video to hear the bell sound).
After taking a glimpse of Marienplatz we continued moving towards our objective – a decent evening stroll through. Right after my pizza date, we ended up in Viktualienmarkt. It was rather a sight! There was plenty of beautiful stalls. One after another, and another. It was way better than we expected!
"Viktualien" is a Latin word that means food. Therefore, the entire term indicates this is a food market. Simple, right?
Viktualienmarkt is a Munich hot spot where locals can buy fresh produce, fish, and bread or where tourists can get fresh flowers and a mean cup of coffee. There is also a beer garden open when the weather permits.
The market origins date back to the early 1800s when the space used to store cereals in Marienplatz became too small. King Maximilian, I ordered the relocation of a certain area. With time, the market expanded and gained notoriety. The area suffered extensive damage after World War II. After a revitalization sponsored by the government and the help of citizens, Viktualienmarkt reopened in 2005.
If you are visiting Munich, make sure to spend some time on the market.
That pretty much sums up my unplanned budget visit to Munich city. Perhaps next time, I should come prepared and probably check my list off by visiting the English Garden and St. Peters Church top views!
So those are my tips for seeing Munich on a budget – do you know of any more Munich bargains or have any money-saving tips?