all rights reserved
I recently traveled to Thailand and in one word the country was BREATH-TAKING! The trip was so inspiring, and I didn't want it to end. I'm still reflecting on the trip and had such a fun time understanding the culture, people and Islands. Today I'm gonna share with you my experience staying at the Phuket Airport Hotel.
I took the plane early afternoon from the Kuala Lumpur International Airport Malaysia to Phuket Airport. I had been planning on this trip with my boyfriend for over a month now and it is a much deserving holiday. Especially when you are in a long distance relationship, a simple gateway like this is perfect to bond.
Let me show you a couple of pictures stored in my gallery for you. An overview of Phuket from my plane and off course my mandatory selfie.
Day 1 in Phuket City
Today I'm sharing some of my favorite Thailand memories with all of you and hope that it makes you feel like you were traveling right along with me. Thailand is a Southeast Asian country. It's known for tropical beaches, opulent royal palaces, ancient ruins and ornate temples displaying figures of Buddha. When travelers to Thailand talk about sea, sun, and sand, Phuket is often the first place that comes to mind. But, let's have a look at Phuket Town first.
Discovering Phuket
Phuket Town is, at first sight, is an unappealing rag-tag collection of modern and semi-modern architecture, Sino-colonial houses and shops and shopping centers. But in its back roads (Thalang, Dibuk, Krabi) you'll find an eclectic bunch of refurbished restaurants, bars and Chinese houses dating back to Phuket's tin-mining 'golden age' that are well worth exploring and 'discovering'. I loved it!
Where Did I Stay?
I stayed in Phuket Airport Hotel that was nearby Phuket Airport. On the first day of arrival, I wanted to explore the small town before leaving for my island tour. The place is very comfortable, it is rated as a 3-star hotel (but for me it's 5 stars!) and it's one of the closest hotels near Phuket Airport. Even though it is closer to the airport, the hotel gives you a peaceful haven-like feeling to rest your mind & feet. The hotel is perfect for transit passengers, layovers or a short stay in Phuket. The worker is super friendly! They are helpful and defo easy to communicate with.
Below is the swimming pool rest and go area. There are benches around the pool so you may sit and relax or even read a book. The place has structured in a manner that as you walk into the hotel, the swimming pool is right in the middle of the entrance, surrounding the room. So, imagine waking up with a pool right in front of you.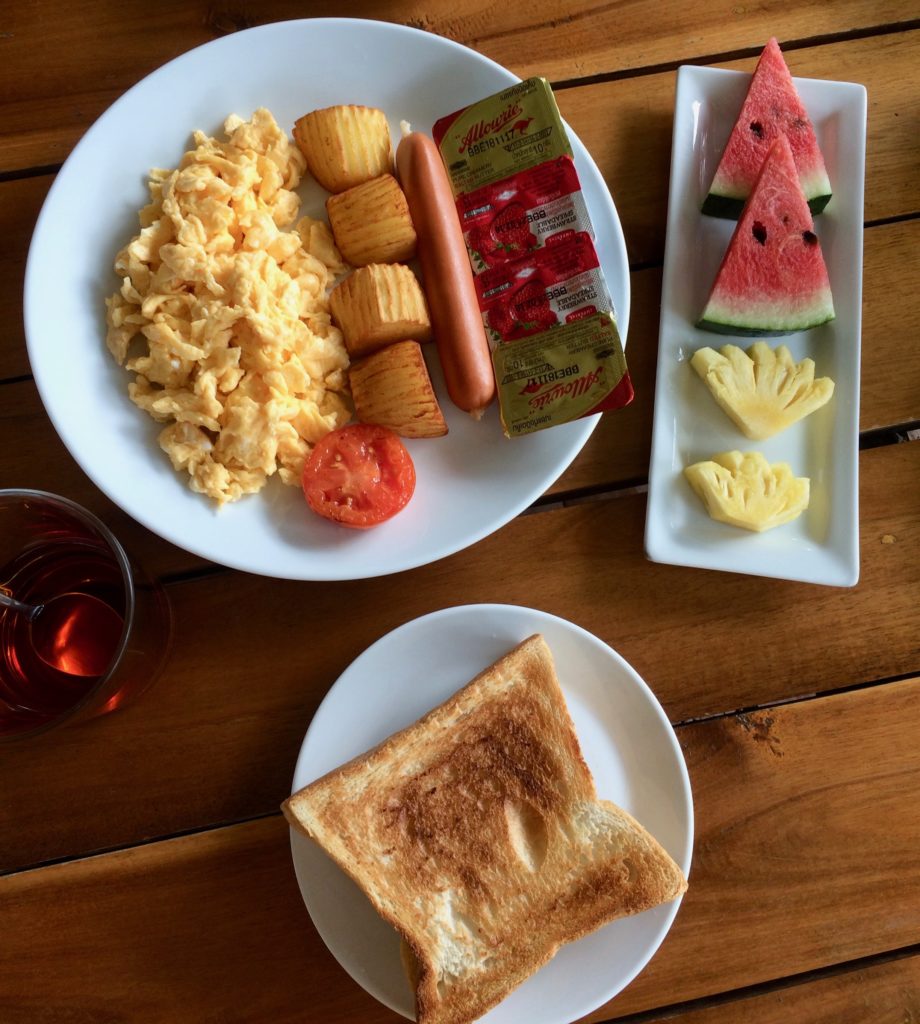 Is breakfast provided at Phuket Airport Hotel?
Yes, a big breakfast indeed. The folks who worked in the Phuket Airport Hotel are warm and welcome you with open arms. They are friendly, trust me. I speak based on experience – If you are planning to visit Phuket, this is your place. Not only are they friendly but the rooms are reasonable. Also, the hotel provides complimentary of 24 hours free fresh bean coffee, tea and fruit juices refreshment! A good catch eh.
In short, I thoroughly enjoyed my stay here at the Phuket Airport Hotel. The best thing about this hotel trip was learning how kind and helpful the Thai people are. They smile at you, they bow down doing Namastey (saa-waa-dee-ka meaning hello) and they go out of their way to help tourists. This is something that I loved the most.
Thank you for your love Phuket Airport hotel, till next time. Get your hotel booked in booking.com.
Next, let's unravel the Islands of Thailand.